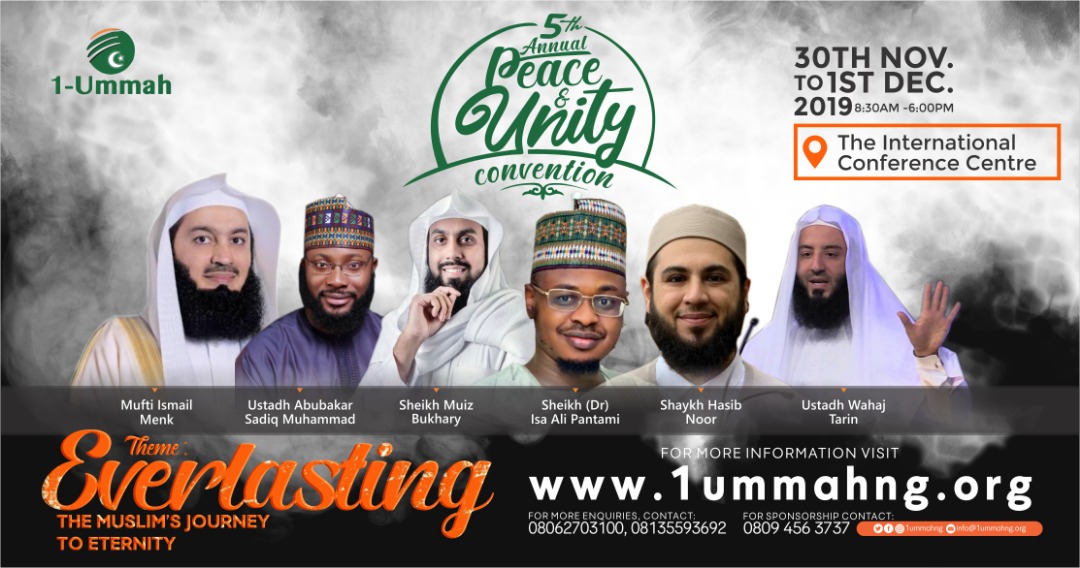 Muslimah Foundation is in a longstanding partnership with sister NGOs like Light Of The Ummah and Sisters in Daawah as part of planning, organising and managing a series of annual Peace and Unity conventions collectively as 1-ummah.
1Ummah, a consortium of organisation comprising of like-minded charity organisations such as Muslimah Global Foundation, Women in Da'awah, iMedia and Light of the Ummah.
These dynamic, religious, and educational organizations offer unique programs and services that seek to provide and enable better understanding of Islamic values that help improve the quality of life of individuals and organisations and promote unity in diversity, community service, and much more.
With similar goals and missions, the organisations team up to produce two successful conventions every year in Lagos and Abuja for four years and counting Insha Allah, where they invite local and international speakers alike.
The Scholars and speakers team up to deliver sessions and guide interactive discussions amongst attendees. PUC further engages the community with their Da'awah and charity corner, bazaar where stalls and exhibitions are organised for registered vendors and kids activities and events corner.
As affiliates, Muslimah Global foundation with the other three sister organisations organise and sponsor events, activities and projects during the annual PUC.
2018
Theme: Bedrock of a successful society
The lectures for the bedrock of a successful society wereby Scholars Uzataz Dr Abdul fatah Adeyemi, Mufti Ismail Menk, Dr Muhammad Salah, Imam Abdur Rahman Ahmed, Dr Abdulhakeem Abdul lateef, Uztaz Ali Hammuda and Sister Maryam Lemu.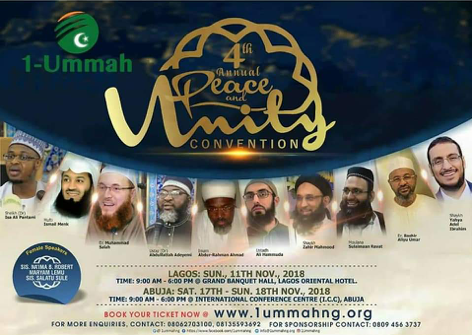 Topics discussed include striking the right balance: Deen, Family and ambition by Sister Naima B Roberts, Sister Maryam Lemu, and Sister Salamatu Sule. Leadership lessons from the pious predecessors by Shaykh Zahir Mahmood, Earning and Halal living by Dr Bashir Aliyu Umar.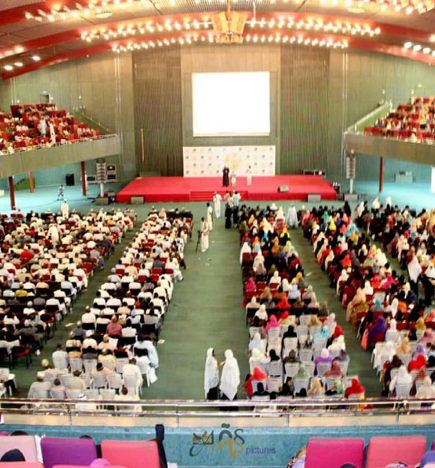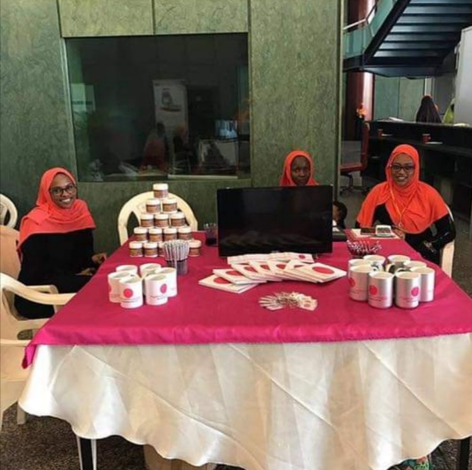 For more information regarding our annual PUC please visit: https://1ummahng.org/ to book your tickets.
Look out for posters for details and be sure to visit Muslimah Global foundation stall at the Bazaar corner to find out more about our activities, treat yourself to a souvenir or just to say Salam.
2017
Theme: Be a better Muslim. Rejuvenate your life.
The convention was centred around rejuvenating the contemporary Muslim family. Lectures were delivered by Nigerian and International Scholars and speakers with audio/video recordings on a various topics ranging from Islamic History, contemporary Muslim communities around the world and a variety of lectures and discussions to guide and benefit the Ummah. Lessons such as:
The Fiqh of courtship and Nikkah in Islam by Mufti Menk. Choosing fidelity over Fitnah in your marriage delivered by Dr. Isa Ali Pantami. Child upbringing in Islam by Muhammad Bn Uthman. Building a beautiful Muslim home by Maulana Ebrahim Bham. The marital journey by Abdul Fattah Adeyemi. Prof. Salihu Shehu by Muhammad Salah. Rights and duties of husband and wife by Muhammad Salah. The ideal Muslimah by Faridah mukhtar, Sister Salamatu Sule, Mallama Halima Sani, Sister Madina Sani. Back to basic – who should you marry; becoming marriage ready by Abdul Fattah Adeyemi, Ebrahim Bham, Nurudeen Lemu. Parenting; the roles of the father and mother in playing an active role in successfully raising a productive and successful Ummah by Bashir Mundi, Mufti Menk, Nurudeen lemu, Sister Salamatu Sule, Suruuroh Ogunfemi.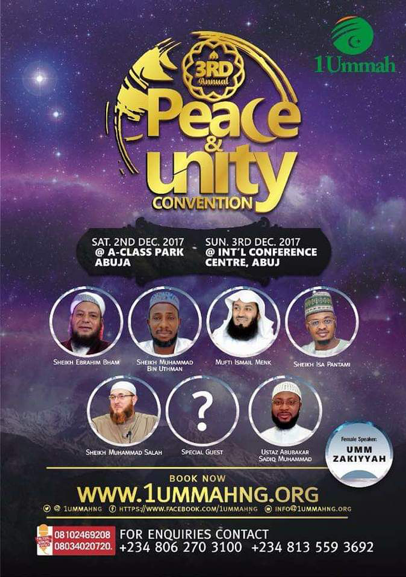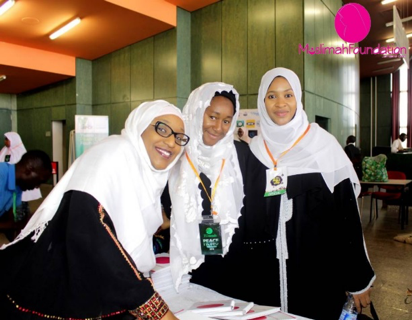 2016
Theme: Integration and Empowerment in Times of Conflict.
This topic was primarily chosen to help encourage the dialogue and navigate the Nigerian Ummah through the economic recession majority of us face as well as educate us as a result of the adverse effects of the insurgency, socio-economic and stigmatisation brought about by perceptions of Islamic extremism.
2015
Theme: Peaceful coexistence in Islam
The First ever PUC was organised in order to challenge and change the misconceptions surrounding Islamic teachings towards fostering peaceful coexistence and religious tolerance.
The session included interactive sessions, interfaith dialogues, Nasheeds and dinner with the scholars set the bar high for future conventions.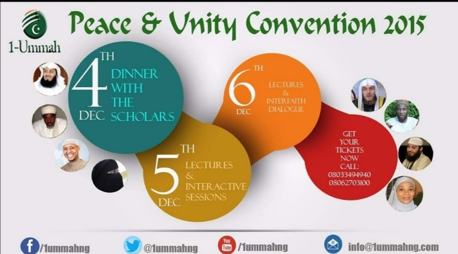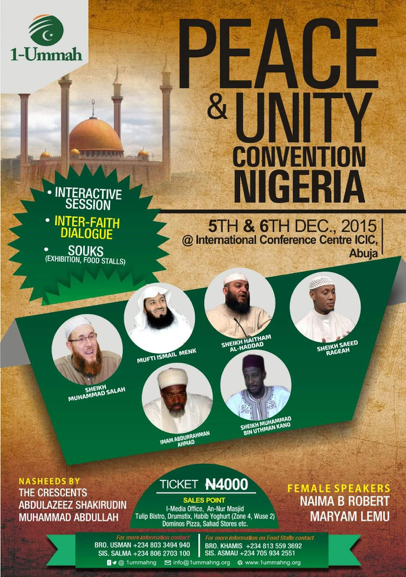 Scholars and speakers such as Mufti Ismail Menk, Dr Muhammad Salah, Sheikh Saeed Rageah, Imam Abdur Rahman Ahmed, Sheikh Muhammad Bn Uthman Kano, Sheikh Haitham Al Haddad, Sr Naima B Roberts and Sr Maryam Lemu attended the event. With the evening ending with entertainment by Nasheed artists such as: the crescents, Abdulaziz Shakirudeen and Muhammad Abdullah.
PUC 2015 successful encouraged and promoted quality interfaith interaction and dialogue and also showcased Islamic culture and knowledge by bringing together national and foreign scholars and speakers.