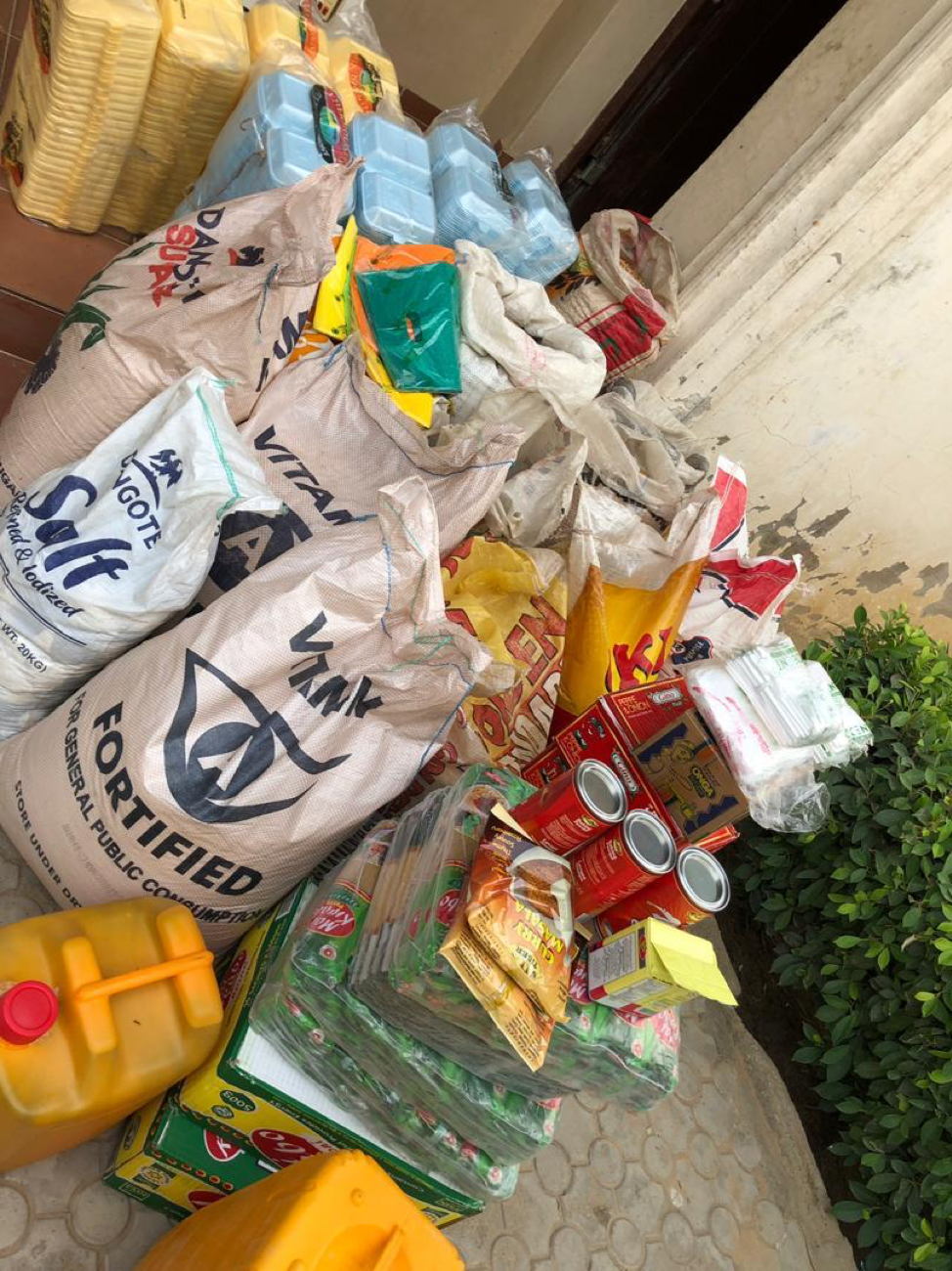 The COVID-19 is a disease caused by a new strain of Coronavirus that has not been previously identified in humans.it was first reported to WHO on the 31st of December,2019 in Wuhan China.

As the coronavirus pandemic unfolds in Nigeria, there is additional pressure on a lot of families to provide food for their family members.

Charity is emphasized greatly in Islam and there are huge rewards to be gained for giving for the sake of Allah especially at a time when people are in dire need of it.

Muslimah foundation is working really hard to start an 'Emergency Food Drive' (EFD 2020) where we will be distributing Raw food to deserving members of society.

Locations selected to commence are based on prioritisation and shutdown directives respectively: 
1. Kaduna 
2. Niger 
3. Kano
4. Borno 
5. Gombe 
6. Yobe 
7. Katsina 
8. Kebbi
9. Adamawa
10. Katsina-Daura

We solicit for your help at this trying time. The target is to reach a minimum of 30 families/location. For N30,000/Family we will be providing them with:
25 kg rice
6 mudus sugar
15 mudus beans
15 mudus millet
5 liters of oil and
Soap

By donating today you are playing a big part in helping people fight against the spread of coronavirus. 

Jazakumullahu khairan as you donate and thank you for helping keep us all safe.

Please find our details below: 
*MUSLIMAH GLOBAL FOUNDATION*
*JAIZ BANK: 002517663*
*GUARANTY TRUST BANK: 0023673217*
A DRAFT TIME TABLE FOR THE 8 WEEKS LIVE PHONE IN PROGRAMME ON RADIO NIGERIA (FRCN), KADUNA
Muslimah Foundation, with support from the US Embassy, Abuja is organising a COVID-19 radio response with the objective of increasing awareness of COVID-19 in nine northern states of Nigeria by:
Airing sensitization radio messages in 15 languages and airing them for two months in state radio stations
Broadcasting a live radio programme once a week for a period of two months with the Federal Radio Corporation AM service in Hausa
The radio stations and languages are:
| | | | |
| --- | --- | --- | --- |
| SN | STATE | STATIONS | LANGUAGES |
| 1 | ADAMAWA | FOMBINA FM, YOLA | FULFULDE, HAUSA, BACHAMA |
| 2 | BORNO | PEACE FM, MAIDUGURI | KANURI, HAUSA, BURA, SHUWA ARAB, MARGHI |
| 3 | GOMBE | AMANA FM, GOMBE | FULFULDE, HAUSA, TANGALE, TERA |
| 4 | KADUNA | FRCN, KADUNA/ KARAMA FM | HAUSA, KAJE, PIDGING |
| 5 | KANO | PYRAMID, KANO | HAUSA, PIDGING |
| 6 | KATSINA | COMPANION FM, KATSINA | HAUSA, FULFULDE |
| 7 | KEBBI | EQUITY FM, BIRNIN KEBBI | HAUSA |
| 8 | NIGER | POWER FM, NIGER | HAUSA,GWARI, NUPE |
| 9 | YOBE | YBC, DAMATURU | FULFULDE, HAUSA, KANURI, BOLE, KAREKARE |
| 10 | KADUNA | FRCN KADUNA | HAUSA LIVE DISCUSSION PROGRAMME |
The live radio programme on FRCN, Hausa Service, Kaduna is aired every Wednesday at 8am. The topics and panelists are:
SN
WEEK
TOPIC
PARTICIPANTS
DOWNLOAD AUDIO
1
WEEK 1
19/7/2020
PREVENTING AND MANAGING COVID-19
1. HAJ. UMMI G. ELRUFAI, WIFE OF THE GOVERNOR, KADUNA STATE

2. DR. AMINA MUHAMMED BALONI, COMMISIONER FOR HEALTH, KADUNA STATE

3. DR. EMMANUEL JOSEPH, LEAD CASE-MANAGEMENT IDCC, KAKURI

4. HAJ. AISHA NASIR, STATE RAPID RESPONSE TEAM SRRT
Week 1 radio live show
2
WEEK 2
26/7/2020
SOCIO-ECONOMIC CHALLENGES ARISING FROM COVID-19 RESPONSE – AND SOLUTIONS
1. RABI SAULAWA, PRESIDENT JAMIYAR MATAN AREWA

2. ABUBAKAR MATI BARNAWA, FORMER PRO/SECRETARY OF ABUBAKAR GUMI CENTRAL MARKET UNION

3. HAJ. HADIZA ABUBAKAR, CHAIRPERSON WOMEN COOPERATIVE SOCIETY (NGO)

4. ABDULJALAL ABDULLAHI SAID, DISTRICT CHAIRMAN, TRADERS ASSOCIATION CSO
Week 2 radio live show
3
WEEK 3
2/8/2020
STIGMATISATION AND COVID-19
1. DR. MUHAMMAD SHUAIBU, MENTAL HEALTH SPECIALIST

2. HADIZA ALIKO, FOUNDER HOUSE OF RECOVERY

3. MUHAMMADU NASIR TAHIR, HUMAN RIGHTS ACTIVIST

4. RECOVERED PATIENT
Week 3 radio live show
4
WEEK 4
9/8/2020
COMPLIANCE OF PREVENTIVE MEASURES FOR COVID-19
1. JAAFARU YUSUF, STATE CHAPTER CHAIRMAN NATIONAL ASSOCIATION OF PROPRIETORS OF PRIVATE SCHOOLS (NAPPS)

2. DR. MUSTAPHA IDI AMIN, ENVIRONMENTAL HEALTH OFFICER ZARIA, STATE RAPID RESPONSE TEAM

3. HAJ. FATIMA, HUSNA ACADEMY
Week 4 radio live show
5
WEEK 5
16/8/2020
ROLE OF TRADITIONAL AND RELIGIOUS LEADERS IN THE FIGHT AGAINST COVID-19
1. REV. YOHANNA BURO, CHRISTIAN RELIGIOUS LEADER

2. IMAM HABIBU ZANGINA, MUSLIM RELIGIOUS LEADER

3. ALH. KABIR YAHAYA MUHAMMAD, TRADITIONAL LEADER, VILLAGE HEAD RIGASA

4. YUSUF AUTA, DEKACHI KABALA WEST, COMMUNITY LEADER
Week 5 radio live show
6
WEEK 6
23/8/2020
GENDER ISSUES IN ADDRESSING COVID-19
1. PROF. HAUWA'U EVELYN YUSUF, PROFESSOR OF CRIMINOLOGY AND GENDER STUDIES IN THE DEPARTMENT OF SOCIOLOGY OF THE KADUNA STATE UNIVERSITY.

2. SAMIRA ISAH MODIBBO, FOUNDER AND EXECUTIVE DIRECTOR, THE VILLAGE DEBBO CARE INITIATIVE (VDCARE)

3. DR. SADIQ, CONTROL OFFICER ON INFLUENZA DISEASE, MINISTRY OF HEALTH KADUNA STATE
7
WEEK 7
30/8/2020
NIGERIA IN A POST COVID-19 ERA
1. BARR. ALZUBAYR ABUBAKAR, KADUNA BASED LEGAL PRACTITIONER, AND PUBLIC AFFAIRS COMMENTATOR

2. DR. BUHARI HABIBU, FIELD OFFICER ON FACE MASK ON COVID–19, ABU ZARIA

3. ALH. GAMBO IBRAHIM, SARKIN SAMARIN SABON GARIN TUDUN WADA, KADUNA

4. BABAN COMRADE, RILWANU MUHAMMED, NATIONAL PRESIDENT ASSOCIATION OF PEOPLE WITH PHYSICAL DISABILITIES (NAPWPD)
8
WEEK 8
6/9/2020
COVID-19 AS A GLOBAL PANDEMIC
1. DR DAUDA MADUGU, KADUNA STATE WORLD COORDINATOR OF WHO

2.

3 CDC OFFICIAL
The eighth and final one is happening in FRCN, English National Service, Abuja.
The details of the show are:
Radio show: First segment of Radio Link
Topic: 'COVID-19 as a Global Pandemic'
Date: 5/9/2020 Time: 8am